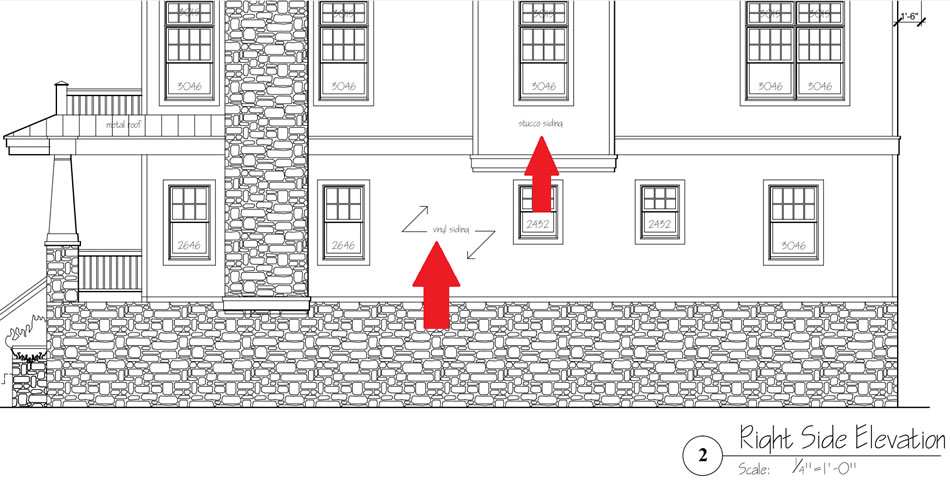 There are many different products classified as siding.
Brick siding, eifs siding, vinyl siding, and stucco siding are all different types of siding exteriors for buildings. "Stucco Siding" is a term used in the construction industry most commonly by architects. On the elevations we see this term a lot when an architect wants to show where the stucco is on the building. In the picture above are two red arrows showing an example of a local architect calling out vinyl siding as the main exterior of the right side and then the bump out on the 2nd floor they are calling for stucco siding.
As a contractor this term is very general. The architect may just want a hard coat stucco system. If they want drainable or barrier EIFS, we hope that the architect shows specifically what type of system they want in either the details, cross sections, or the specifications.
Every architect is different in what they call out on the elevations and the type of system that goes along with it.
What if a contractor is looking at a set of plans and on the elevations it has this term stucco siding? Maybe he might think that this term means either stucco OR siding. If he prices out siding, then his price is going to be a lot lower than a contractor who prices out the job for stucco. Or maybe there is a siding material that looks like stucco, installed like siding, and we just don't know about it yet. We have all seen by now the siding with the stone impressions in it. Same concept, installed like siding and looks like stone. Not as authentic as stone veneer but may fool the eye when driving by. If anything, stucco siding should be replaced with stucco cladding. The word cladding means the combination of materials and design to create (in this case) an exterior façade. In essence, the materials are "cladded" together.
Stucco siding is installed on the sides of buildings using building paper, wire lath, accessories for drainage, cement products, accent features, and finished with stucco.
Stucco requires more of a craftsman rather than just a regular contractor. Working with cement on vertical applications is much more difficult to work with than flat on the ground because gravity does not allow cement to become level or plumb vertically as it does when you're pouring cement flat on the ground.